Following on from the great success of our special sailing edition of Superyacht Technology in July 2018, the team were delighted to spend some time with Derek Munro, David Goldie and Sarah Colbon of Divergent Yachts at the Monaco Yacht Show.  We are taking the opportunity of our Monaco Yacht Show special edition to highlight the incredible career of Derek, undisputable one of the top owner's reps in the superyacht industry.
Derek Munro is the Director of Divergent Yachts and has been in the professional superyacht industry since 1988, starting out as a captain and engineer. Derek has been fortunate to have sailed and commanded sailing and motor vessels from 18m to 50m in length throughout the Mediterranean, Atlantic, Caribbean, Red Sea, Pacific and Asia. Currently, Derek is an Owners Representative on new build yachts in Europe and recently delivered the largest sailing yacht in the world Black Pearl, having previously also worked on The Maltese Falcon. He has worked on the Black Pearl for over 6 years now and continues to travel from Southampton to Amsterdam almost every week.  David Goldie said, "aircrews and pilots know Derek personally by name now"!


Derek was born in Aberdeen but raised in Malaysia, the Solomon Islands, Papua New Guinea and New Zealand, studying Agricultural Economics at Massey University in New Zealand.  He believes that his diverse upbringing provides his with the great skills required to mediate between shipyards and clients in his role as Project Manager. He also speaks Malay, English, Tamil, Mandarin and Dutch! With a university friend, he travelled across Australia, Indonesia, Malaysia, Thailand and Isreal, landing his first job on a sailing yacht out of Eilat heading for Spain, and he became fully hooked on the yachting industry.
n 2018 Derek was awarded the ISS Business Person of the Year Award for his work setting up and Chairing Superyacht Charities which has successfully grown year on year. This is a voluntary position which runs alongside all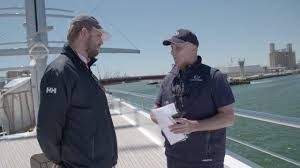 other work. The Superyacht Charities started in 2012, most of the finding is received through donations and fundraising events including life raft races and charity bike rides.  Every year since 2015 the charity hosts a fundraising 'Black Tie' ball.  This next event will take part on March 23rd 2019 at St Mary's Stadium in Southampton. They are expecting another sell-out year so book now to avoid missing out.  Tickets are £85 individually or £800 for a table of 10. With a minimum of 520 industry professionals attending, it is the greatest opportunity to build network opportunities and socialise at the same time. Superyacht Technology is attending so we hope to see you there.
Superyacht Technologies are privileged to be asked to host a Talking Tech event in association with Superyacht Charities. The event will take place on Friday March 22nd, the afternoon/evening before the Superyacht Charities Ball. More details coming soon…